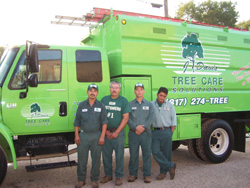 Perhaps you believe that, like many other homeowners, you can do it yourself with just a saw and a ladder. It may appear to be a simple operation to hack down a few more branches as part of a routine tree care routine. This may be necessary to protect the property, family, and home.
You might not even be aware of the impact that your actions will have on your trees. You risk inflicting major harm to your tree or injuring your family in some way.
You can now see why and how the teams who have been practicing their trade for years, the local Arlington, TX professional tree service company J. Davis, should be trusted with all your tree care needs.
Will DIY Pruning Spoil My Tree?
Tree pruning, also known as crowning, is where branches are chopped down to ensure that a tree does not pose a hazard to itself or the yard in which it will be planted, but it can also establish balance and assist the tree's growth.
Trees need stable foliage to create chlorophyll, which means they can perform photosynthesis. If they are unable, your tree may become brittle, thus chopping off all those limbs no longer appears to be the best option.
Trees without foliage may be hungry, just as they are when the sun enables them to manufacture energy. If the thinning is done incorrectly, the leaves will be lost, and no carbon dioxide will be burned.
When properly sliced, healthy development occurs. While a professional arborist understands which branches or where those limbs should be removed, he enables the tree to heal on its own. Doing this pruning by yourself can result in a tree that isn't completely straight, thus it's risky to lose the branches.
Where to Find Arlington, TX Professional Tree Services
Any tree pruning is done with the help of a qualified arborist. As a result, it improves the appearance and strength of the trees.
They may occasionally avoid leaves that have grown around overhead wires or, even worse, close to the house. J Davis is undoubtedly the area's most well-known and experienced tree-care expert.
Your trees will now have the greatest chance to flourish and develop healthily while adding to your landscape design once we complete successful tree pruning.
Contact J Davis Tree Care Solutions for the absolute best tree programs or use the compact form below for a direct response.
You can even check out our customer reviews on BBB, Yelp, or Yellow Pages.

Complete form for a fast response