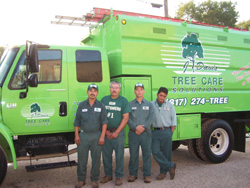 What Insurance Covers Tree Care? Having trees in your yard is a significant responsibility, as they often require maintenance. While some services can be performed without professional help, others are too risky to do so. If you own a tree, you may wonder what tree service insurance can cover.
Several types of insurance cover tree services. Some options cover the services themselves, while others cover your finances and property if something goes wrong during the services. It's critical to make what insurance you need and what your tree service providers should have.
Professional arborists like J Davis will gladly provide proof of insurance and details of coverage for all their professional tree care services.
Homeowners Insurance
If you're wondering whether you can get insurance to safeguard your trees and the surrounding property, you're in luck. Though the list is short, you have a few options. One cost is homeowner's insurance, which may not cover services like tree pruning and trimming but may cover more extensive tree service options.
Tree Removal
Insurance often covers tree removal, but only in particular situations. For example, before insurance will cover any costs, your tree's health, and the reason it needs to be removed are both considered.
This option may not cover diseased trees, hollowed out, or destroyed by animals or humans.
Insurance policies usually cover natural disasters such as lightning, wind, ice, and snow. If a natural catastrophe threatens to topple your tree, your homeowner's insurance may cover the cost.
Natural disasters do not hold homeowners responsible for harm to healthy trees or their environs. With this insurance, you can have the tree removed and the debris removed if it hasn't already.
Tree Care General Liability Insurance
Property owners do not need to get all tree service insurance options. Many tree service insurance options are genuinely the workers' responsibility. General liability insurance is one of the insurance options your tree service company should have. Insurance that protects businesses from the most typical incidents that occur while performing tree service work.
General liability insurance protects property owners from damage caused by tree service workers. Because tree work is dangerous and includes heavy materials, it is typical for a property to be destroyed. General liability insurance protects the property owner from paying for losses. This insurance also covers the business from being fully responsible for these costs.
Worker's Compensation
Worker's compensation protects both you, the homeowner, and the workers on your property. If a worker is injured on the job, they may need to be taken to the injury. Depending on the severity of the injury, they may be required to pay a hefty hospital cost, and without sufficient worker's compensation insurance, the business owner may be held responsible. In the event of non-payment by the business owner, the homeowner may be held accountable.
Where is the Absolute Best Azle Tree Care Services?
Professional tree service companies will gladly show proof of insurance to property owners. It distinguishes professional companies from unprofessional ones. You can trust a business that protects itself, its workers, and its consumers. A business's insurance certificate will show you what is covered, ensure the current policies, and stay in force while working on your property.
If so, Contact J Davis Tree Care Solutions for the absolute best tree care programs or use the compact form below for a direct response.
You can even check out our customer reviews on BBB, Yelp, or Yellow Pages.

Fill in for a fast response