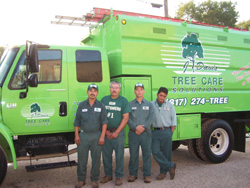 Trees are a popular addition to many homes. They provide shade and protection while also adding to a home's natural beauty. However, a tree may need to be removed at some point. So, how do you know when it's time to cut down a tree?
Here you can find reasons for needing Weatherford tree removal experts.
Tree Removal Experts Start With Trunk Health
One of the most serious issues to look out for in tree health is trunk damage. If the tree's trunk is severely damaged, the tree may pose a serious hazard and should be removed. Trunk damage can occur in various ways and take on different appearances depending on how the trunk was damaged. Any trunk damage should be evaluated by a professional who can properly inspect and assess the tree's health.
Not only should you keep an eye out for damaged trunks, but you should also keep an eye out for hollow trunks. Like a damaged tree trunk, Hollow tree trunks cannot provide adequate support for your trees and may require professional removal.
Suspect Branches Need Weatherford Tree Removal Services
Tree branches, especially dead or rotting ones, can pose a serious hazard and cause injury to people and damage to property such as automobiles, homes, and even other trees and landscaping on your property. When dead branches are left unattended, they can change the way a tree grows. When a tree has heavier limbs on one side, the tree can become lopsided. If you have a tree losing large branches, are prone to rot, or are growing irregularly and posing a safety hazard, it is best to remove it.
Fungus Can Lead to Weatherford Tree Removal
Fungus is just another factor that can lead to the decline of your tree's health. Fungus infestation can cause rot, which can cause the tree to lose stability and eventually decay and die. When you notice fungus on a tree, it is smart to have it assessed by a professional to find out the best course of action.
Best Weatherford Tree Care Starts with Root Health
The roots of a tree are critical to the life and health of the tree. The roots anchor your trees in the ground, keep them upright and allow the tree to absorb essential minerals from the soil. Root damage can harm a tree's health and cause it to lean, which is a safety hazard and should be evaluated by a professional arborist.
There are many factors to consider when deciding whether to remove a tree. The best thing you can do is evaluate the health of your trees regularly and enlist the help of a professional arborist.
Contact J Davis Tree Care Solutions for the absolute best tree programs or use the compact form below for a direct response.
You can even check out our customer reviews on BBB, Yelp, or Yellow Pages.

Complete Form for a Fast Response