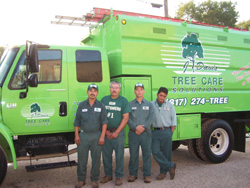 At J Davis Tree Care Solutions Fort Worth, TX, we believe that expert tree pruning is one of the most essential steps towards unlocking your tree's full potential.
Our certified arborists understand various trees' unique needs and growth patterns and can help you achieve optimal health and beauty for your property's greenery.
Why You Need Regular Tree Pruning
Regular pruning improves the overall appearance of your trees. It promotes better growth patterns by removing dead or diseased branches, thinning out congested areas, and shaping the canopy to encourage proper airflow.
Proper pruning practices can also reduce safety hazards and prevent property damage during severe weather.
While regular tree fertilization is also essential to maintaining a healthy landscape, it works best with expert pruning services.
At J Davis Tree Care Solutions, our Fort Worth, TX team offers comprehensive care plans that include fertilizer treatments and professional pruning techniques tailored to your needs. With our help, you can ensure your trees thrive year-round while adding value to your property's aesthetic appeal.
Benefits of Fort Worth, TX Pruning for Tree Health
As arborist services, we understand the importance of pruning for tree health. Regular pruning can benefit trees, including improved structural stability and increased resistance to pests and diseases.
Pruning removes dead or diseased branches that might spread disease to other parts of the tree, ensuring the overall health of the tree.
Furthermore, pruning also facilitates better air circulation and sunlight penetration throughout the canopy of a tree which is an essential aspect in maintaining its health. Additionally, regular pruning helps control growth patterns and encourages new growth in areas where it's needed most. This ensures your tree care is crucial for maintaining a healthy and attractive outdoor space.
Where To Find Premium Fort Worth, TX Tree Pruning
With our expert knowledge and commitment to quality service, you can trust us to help keep your trees healthy and beautiful for years. Contact us today at J Davis Tree Care Solutions to schedule your consultation and take the first step towards achieving beautiful, healthy trees on your property. Trust us with all of your tree care needs!
You can check customer reviews on BBB, Yelp, or Yellow Pages.

Fill in for a Direct Response