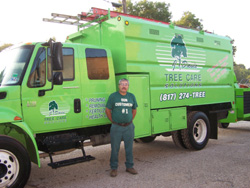 At J Davis Tree Care Solutions, we grasp the significance of providing trees with fertilizer to promote their thriving and durability. Fertilization is a process that provides essential nutrients to trees, helping them combat various environmental stressors like pests, disease, and harsh weather.
Well-fertilized trees have better resistance to these stressors and can thrive even in unfavorable conditions.
Our experts recommend regular tree fertilization as a proactive measure to maintain healthy trees. We use high-quality fertilizers with the right nitrogen, phosphorus, and potassium balance to promote tree growth, leaf production, root development, and overall health.
Our approach also includes soil analysis to determine which nutrients are lacking or abundant in your soil and customize our treatment accordingly.
How We Deliver Premium Tree Fertilization
At J Davis Tree we prioritize the health of your trees above all else. One way we do this is through our expert fertilization services. Our certified arborists understand that proper fertilization is vital to maintaining your trees' overall health and vitality.
We take an integrated approach to tree care, considering factors like soil quality, nutrient balance, and environmental conditions. By applying customized fertilizer blends tailored to your trees' specific needs, we can help them thrive for years.
Our arborist services don't just stop at fertilization–we offer a full range of tree care solutions, including pruning, disease management, and emergency storm response. Trust us to keep your trees healthy and beautiful year-round.
Why Fertilize trees With J Davis Tree Care Solutions
At J Davis, we understand that every lawn and garden is unique. We must consider various factors when creating a fertilization plan for your property. It's not just about throwing fertilizer on the ground and hoping for the best.
Our experts assess the soil type, pH level, grass type, and other essential factors before creating a personalized fertilization plan for you.
We also consider any specific concerns or goals you have for your lawn or garden. For example, if you want to promote healthy growth in certain areas or reduce weed growth in others, we can adjust our plan accordingly.
Fertilization Boosts Tree Health
One of the key ways we differentiate ourselves is through attention to detail. We meticulously review every aspect of a project before submitting it for final approval, ensuring that every detail is perfect. We are always seeking ways to innovate and improve our processes to provide even better services and products.
At J Davis, we pride ourselves on being a reliable partner for all our clients' needs. Our team is comprising experienced professionals who provide top-notch customer service at every step of the way.
Whether you need help with design, printing, or fulfillment, we have the expertise and resources to complete the job. Experience the J Davis difference today–you won't be disappointed!
Get Customized Fertilization Plans With J Davis
At J Davis Tree Care Solutions, we understand your trees are important to you. That's why we offer tree fertilization services to help keep them healthy. Our certified arborists will evaluate your trees and determine the best course of action for fertilization.
Getting a quote for tree fertilization is easy, so, don't wait until it's too late - get your tree fertilization quote from J Davis Tree Care Solutions today! With our expert knowledge and commitment to quality service, you can trust us to help keep your trees healthy and beautiful for years.
You can check customer reviews on BBB, Yelp, or Yellow Pages.

Fill in for a Direct Response