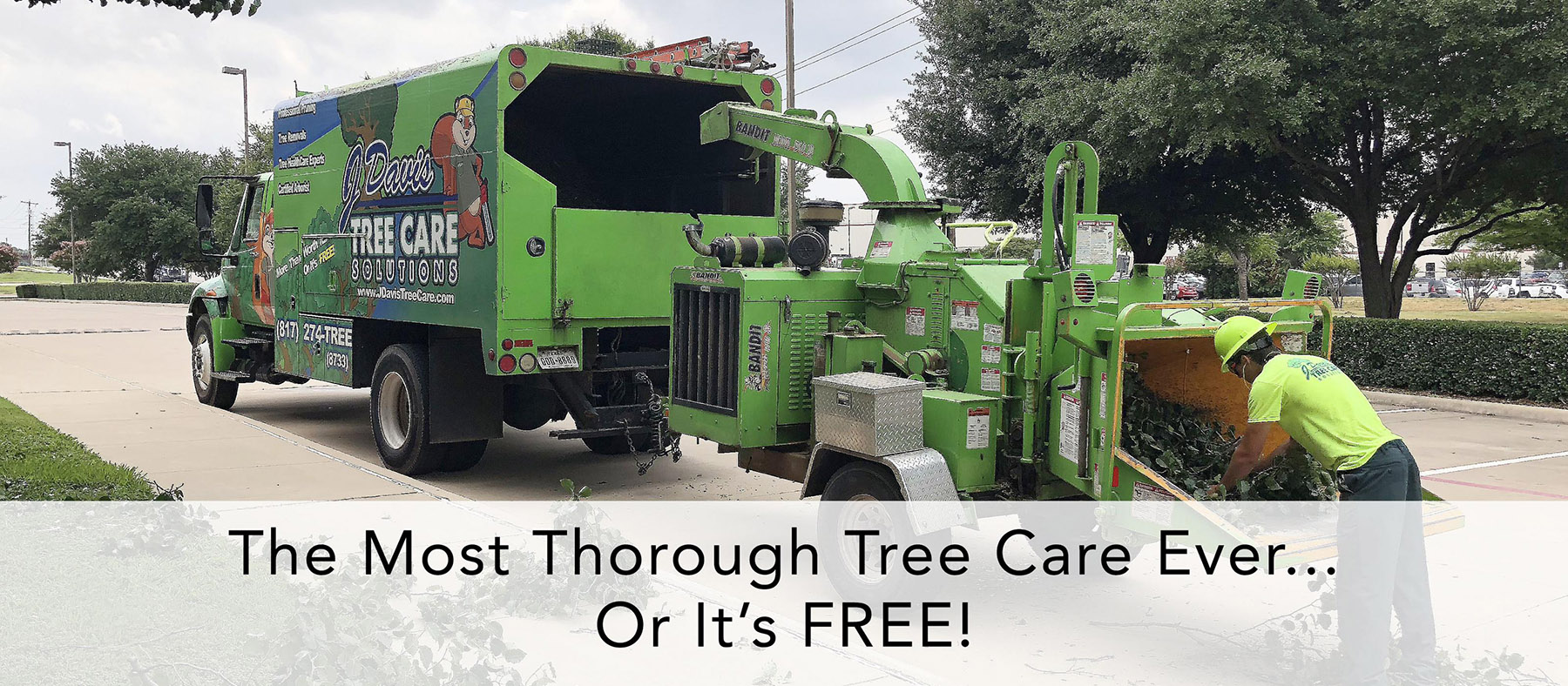 Trees give beauty and character to any yard, but it's not always easy to determine if and when it's time to remove one. Because of this, it's smart to have an arborist look at any trees showing signs of needing removal.
Having trees in your yard that are dead, dying, or otherwise, a nuisance should be a top priority for most homeowners. Here are some signs that it's time to get your tree removed by a professional in Bedford, TX.
Leaning Trees Need Professional Bedford Arborist
A tree will often tilt slightly, but if it looks like it's going to tumble over, that indicates uneven weight distribution.
Extreme risk and property damage can result from leaning trees, especially if the weather is severe. Additionally, if exposed roots are nearby or cracked soil on the side of the lean opposite your property, your tree may threaten your home. Get in touch with our certified arborist if you have any concerns regarding tilting trees.
Trees With Compromised Trunks
The condition of a tree's trunk is often the most revealing clue to its overall health. If the tree's trunk is cracked or missing significant sections of bark, for instance, this could indicate that it poses a risk to your home or other property.
V- or U-shaped multiple trunks pose a threat to trees. The wood at the junction of two trunks can weaken and crack with time during storms, necessitating the removal of the offending branches or the complete Bedford tree.
Damaged Trees May Need Expert Tree Care Services
Thunderstorms and winter storms can cause severe weather, killing or severely damaging your trees.
Lightning strikes during severe storms could cause fatal damage to your trees. There are several causes of tree removal in Bedford, but cars and animals are two of the most common.
Encroaching Trees Need Thinning
The placement could appear ideal when you plant a tree for the first time. However, an optimum location for a tree may change as it grows and as nearby buildings are constructed, or the tree roots spread and crack foundations or more.
The foundation of structures might damage the roots of adjacent trees. Growing branches could also obstruct power cables or other utilities. Because of the risks they pose, trees that cause these kinds of issues are frequently removed.
Contact the Experts For Bedford, TX Tree Removal?
When you first plant a tree, the spot may seem perfect. Yet, when the tree develops, new buildings spring up around it, or its roots spread and break surrounding structures, the ideal spot for the tree may shift.
The construction could potentially harm the roots of nearby trees. Likewise, a tree's growth may eventually obstruct a utility line or wire. These dangerous trees are routinely cut down because of the threats they present.
Contact J Davis Tree Care Solutions for the absolute best tree programs, or use the compact form below for a direct response.
You can check our customer reviews on BBB, Yelp, or Yellow Pages.

Fill In For A Quick Response