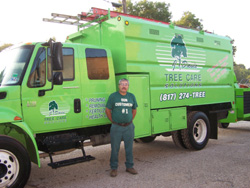 Trees are the most effective way to improve the look of your yard. The final step is to enhance the appearance with color, privacy, and landscape. But trees don't grow up overnight. Some animals may take up to a decade to reach adulthood. This is why so many people are on the lookout for fast-growing trees.
The sight of your neighbors while you are working in the yard becomes unbearable after a while. The constant presence of power lines and tall structures may hamper your family time. Consider the benefits of planting a fast-growing tree.
Read on for more about the short- and long-term tree care options available in Bedford, Texas.
J Davis Tree Care Services Fast growing Tree Guide
This hybrid willow tree can grow to ten feet tall in a single growing season. In a few years, the tree could grow over 30 feet tall. Keep in mind that the Willow Hybrid goes leafless during the colder months.

This giant evergreen thuja tree provides year-round aesthetic value and seclusion without ever shedding its leaves. The height of a Thuja Green Giant hedge could reach four feet in a single year.

A tiny, restricted area is suitable for planting an Italian cypress. The Italian Cypress may be an excellent option to consider. Its maximum height is 40 feet, yet it is only 5 feet wide.

After the first year, the Tri-Colored Willow will have grown many feet. Verdant greens, reds, and whites shine under the early summer sun.

You can't find a more effective means of creating seclusion than a Golden Bamboo tree. It only takes a few years for them to grow to 20 feet, and the screens they create are long-lasting and aesthetically pleasing. Also, please move it away from the grass, as cutting it regularly can assist in preserving a Golden Bamboo at a manageable width.
Care For Fast-Growing Trees
A well-kept yard necessitates regular tree trimming and pruning. And it's essential for trees to expand rapidly. Evergreens benefit most from being pruned in the early fall. It would help if you pruned your deciduous trees in the spring. If you clip a tree when it's young, it won't suffer any long-term effects.
Don't wait until development forces you to use thicker wood. Leave more room between the tree and the edge of the hedge if you want to keep it looking nice.
The truth is that taking care of trees is a labor-intensive endeavor. Although some property owners may prune their trees regularly, doing so is usually unnecessary. J Davis Tree Care is committed to the continued health of your trees. Our team is well-versed in pruning tree limbs, thinning out overgrown trees, and preparing the areas around private and public buildings for use.
Where To Find The Best Bedford, TX Tree Care Services?
Our services for caring for trees are fully covered by our licensing, insurance, and bond. Care for trees of all ages is provided, and we offer free estimates. Contact J Davis Tree Care Solutions for the best tree removal programs to keep your trees in the best of health or deal with them when there is no hope for them anymore.
You can also use the compact form below for a direct response; alternatively, check out our customer reviews on BBB, Yelp, or Yellow Pages.

Fill In For A Quick Response