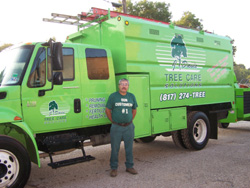 There are some needs that you family has when it comes to keeping your home and yard beautiful. Taking care of all the trees that are growing in your yard is an important responsibility that you have. If you do not give careful attention to each one of those trees, they may not stay beautiful and they may not stay healthy. When you are looking for quality tree care services in Arlington, TX, know that we understand what you need and that we know how to give that to you. If you are concerned about your trees, know that we can figure out what is going on with them and make sure that they are healthy.


When you get us to give you quality tree care services so that your trees can be healthy, we will pay attention to every part of the trees that we work on. We will look over each branch and figure out if there are problems that need to be addressed. We are not going to charge you a lot of money and then do a sloppy job. We will provide you with the most thorough help with your tree care needs or our help will be free.


If you are concerned about the trees growing on your family's property and you are looking for someone to help them be healthy, know that we can get to you quickly with quality tree care services in Arlington, TX. Your trees and your yard are our priority when we are working. We want to make you happy, no matter what it is that you need us to do. Trust us to hurry to you when you need help and trust us to please you with the way that we work. When we are in your yard, you know things will be done right.