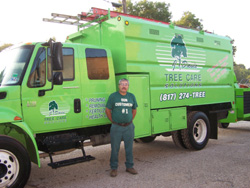 When your trees aren't looking their best, you might wonder what you can do to make them healthier. When you need them to be taken care of, you can contact us and use our quality tree care services in Arlington, TX. We will help your trees to become stronger and healthier than ever, while also making them look great. You will feel good hiring us each time that your trees are in need of any kind of care because we know how to do it all. We also say that we will do the most thorough tree care ever... or it's free. That is our promise to you.
You never have to think about your trees and how to care for them again when you know that we can do all of that for you. We can come over anytime that they become a bit sickly or aren't looking their best, and we can make them be as healthy as possible again. We know how to do all kinds of work for them and are trained to deal with all kinds of trees, so you can trust us no matter what kind of trees or variety of them you have on your property.
You have enough to deal with when taking care of everything else on your property and don't have to worry about your trees, too. When you need quality tree care services in Arlington, TX, you will want to contact us so that you can trust things will get done well. Our company is always very thorough and careful about taking care of trees. We know that you expect the best from the companies that you hire for this kind of help, and we will give your trees nothing but our best. They will be in great shape once we take care of them.