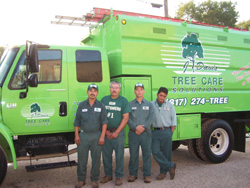 When you are going to have your tree trimming done in Arlington, TX, you want to know that it will be done well so that the trees will be healthier because of it, and also so that they will look nice with all of the branches trimmed down. You can trust us to take care of this well and to leave you with trees that you can feel good about in every way. We are always careful about what we do, and one of the reasons that you can trust us is that we always offer to do the most thorough tree care ever... or it's free.


We are never going to do work that you are unsatisfied with, and we are never going to take too long when we are working on the trees. We will try to be as quick as possible with them so you can feel good about how they look soon. We will be careful even as we work quickly, though, because we care about the quality of the work that we do. We know that each branch that we trim off matters and how we do that will make a difference for the tree, and we put thought into our work.


We are always going to do the right things for you when we take care of your tree trimming needs in Arlington, TX, and you can feel great about choosing us because of that. Other companies might work too quickly that they will leave a mess of your trees, but we will be careful about what we do. We will use our knowledge and all of the experience we have gained over time to help us do what is right for your trees. Any time that you need to have them trimmed, know that you can count on us.