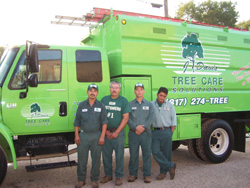 While you appreciate your property's trees, you should know that they pose a danger to your home and loved ones if they are not appropriately maintained. A tree's limbs and branches will grow as the years go by. Large branches can be seen hanging from the power lines, covering your roof and driveway full of cars.
The conditions are ideal for an incident, so you should take swift action to rectify the situation and tend to your trees.
Find out where to look for tree trimming near me to get the help you need if you've never used a service like J Davis in Weatherford, Texas.
Weatherford, Texas Tree Pruning
If you need tree pruning in Weatherford, TX, ask around instead of sifting through dozens of search results online.
If you want a good idea of what a company can do, ask for feedback on the quality of service and cost. Once you know their names, you can immediately look them up on the internet and learn everything you want.
You can also do an online search for the company's name to read reviews left by previous clients and determine if they are a good fit for the position.
Tree Trimming Service Near Me in Weatherford, TX
After compiling a list of names, you can contact tree trimming services near me. Analyze how well the office staff answers your questions and responds to your needs. Before letting a company work on your home, ensure they have the proper licensing and insurance.
Arrange a time for an onsite assessment, and someone who can inspect your trees and advise you on what needs to be done will come to your property and assess the situation. To ensure the cost of the job is reasonable, you can also request a quote.
Where to Find Tree Trimming Experts in Weatherford, TX
We are the local experts in tree care, so come to us whenever you need tree trimming. We are fully licensed and insured to ensure your peace of mind while we improve the look of your trees and landscaping.
Contact J Davis Tree trimming Solutions for the best tree trimming programs, or use the compact form below for a direct response.
You can even check our customer reviews on BBB, Yelp, or Yellow Pages.

Fill In For A Quick Response