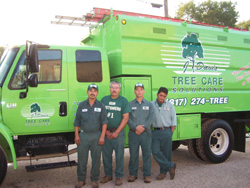 You may wonder if you ever need a tree crane to perform tree maintenance. However, if you were ever considering this, you need to call in the pros.
While they are not always necessary, a tree crane can be useful for professional arborists such as those from J Davis tree care services. In other instances, there are times some situations are dangerous unless a tree crane is used.
Here you can look at a few examples where your Arlington Tree Care Company should use a crane to protect everyone.
Arlington Tree Maintenance Using a Crane
Although the most crane services required for trees are for removal, sometimes it is also not possible to properly maintain the tree unless a crane is used.
A crane can lift the arborist to the height of the canopy for tall trees needing pruning and provide a place for cut limbs to fall safely.
Furthermore, the use of a secure platform can be useful for extensive tree inspections. The health and structural integrity of a tree can be better assessed by professionals despite its height.
Arlington Tree Pros and Tree Removal
Professional arborists consider many factors when examining a tree and its surroundings when deciding whether a tree crane is removed.
A crane is generally used to prevent further hazards and damages than the ones already caused or potentially caused by the tree. The most often secure and effective solution when crane-assisted tree removal is:
A tree has become weakened and is leaning dangerously close to your home

It's impossible to fell your tree as it's too tall.

Electrical cables and wiring are too close to your tree

Your tree has decayed or diseased
Searching for Tree Removal Services in Arlington
Spring usually brings out a lot of new tree growth, and many issues come to light when there is a weight on the branches. A tree crane is ideal in this situation as the platform can hold far more weight than a rope.
To get your tree seen using a crane, you can quickly Contact J Davis Tree Care Solutions for the best tree care solutions, or you can fill in the compact form, and the staff will be in touch. You can even check out our customer reviews on BBB, Yelp, or Yellow Pages.

Fill in for a quick reply