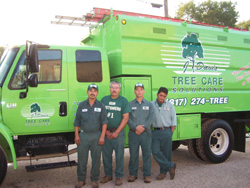 Homeowners value their trees because they add value and beauty to their property. Trees must be properly maintained if you want them to be healthy and to look great. One of the best ways to keep trees in good condition is professional tree trimming in Keller, TX. When trees look neat and are perfectly shaped, it can help increase your property value. Regular trimming also helps improve the overall health of trees and will keep trees healthy for many years. If you want your trees to look good and to stand tall, we are the place to call. We have been on operation for years and will do the job you pay us to do.
One of the greatest benefits of tree trimming is that it removes hazards from your property. Weak branches and limbs are potentially dangerous because they could fall on people or on your house or car. Removing broken and weak limbs and branches is part of the trimming process, which can keep you and your property safe. Having your trees trimmed can also save you money. If a branch fell on your home or car, the cost to fix the damage could be enormous. Plus, if a weak branch fell on a neighbor or passerby, you could be made to pay huge medical bills and may have to face a lengthy litigation.
Trimming trees also helps increase sun exposure and air circulation, which can help improve the health of trees. Regular trimming also helps enhance the appearance of trees and helps stop wide or weak branches from growing. Professional tree trimming in Keller, TX can also help eliminate disease and infestations from insects. If the tree is diseased or infected, it will most likely die after a period. We offer the most thorough tree care ever...or it's free. Contact us today to setup an appointment.