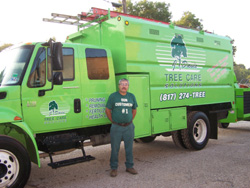 The storm last night badly damaged one of the large trees in your backyard. It is important for safety reasons to have damaged trees removed from your property as soon as possible. Limbs and branches can become weak and could fall at any moment. Plus, the tree could be leaning or uprooted, which can be very dangerous if it falls on your home or on you. It highly suggested that skilled professionals like us handle this kind of job. We have been in operation for years and can provide you with quality tree care services in Arlington, TX that are unsurpassed in the region.
Our skilled arborists are certified and well trained and can be trusted to safely remove the tree from your yard. The team will take the necessary steps and precautions to ensure the tree is secure before they begin to take it down. Securing the tree prevents accidents from happening and guards against the tree falling and damaging your house or car. We advise homeowners to never attempt to remove large trees on their own due to the obvious dangers. Removing trees should always be performed by skilled experts. You can rely on our quality tree care services to be highly efficient.
We use advanced equipment and safe methods. Our crew will not harm any of your other trees and will be careful not to come in contact with your cable, telephone or power lines during the removal of your tree. The services we provide are reliable and our rates are reasonable. If you hire us, we guarantee that our top quality tree care services in Arlington, TX will not be equaled by the competition. For an additional cost, we can grind the stump. Plus, our crew will clean up when the job is complete. We offer the most thorough tree care ever...or it's free. Contact us today.