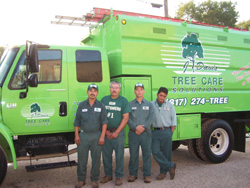 Overgrown branches from one of the trees in your backyard are hanging over the roof of your home and could fall and cause significant damage. The potential for danger and damage is high, which is why we urge you to give us a call right away. It is a fact that most tree trimming in Keller, TX jobs can be a very dangerous and deadly if they are not done correctly. We highly recommend that homeowners hire skilled experts like us for this type of work. Our reputable company has been in existence for years and can assure clients that our top-quality services will not be duplicated or beat by the competition.

You can trust our certified arborists to properly trim your tree. They will use the right tools and equipment to safely cut the limbs hanging over the roof of your home. In addition, you can depend on them not to damage your car, house or foundation during the tree trimming procedure. Our team knows what they are doing and will do the job right. When they are finished, we guarantee the tree branches will be safely removed. In addition, you can rely on the team to clean up the debris and to stack or haul away the wood.

It is best for homeowners to hire skilled professionals. We have the right tools and equipment to do the job safely and correctly. If trees are not properly trimmed, they could be damaged or die. We advise you to contact us if you want the job to be done skillfully and efficiently. Our team is well trained and has the expertise to provide you with top quality tree trimming services in Keller, TX that will not be surpassed by any competing company in town. We offer the most thorough tree care ever...or it's free. Give us a call today to book an appointment.