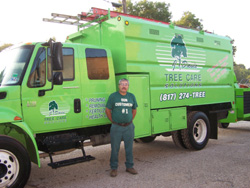 Trees need proper and expert attention if they are to prosper and look great. Our skilled and highly trained arborists know how to help trees thrive and know how to help trees grow healthy and strong. We have been in existence for years and can provide customers with quality tree care services in Southlake, TX that they can trust. Our certified arborists are highly skilled and know how to properly care for trees and can improve their health and enhance their beauty and strength. The services we provide include tree pruning and trimming, tree removal and stump grinding and removal. We also offer emergency services and tree fertilization.
We have been in operation for a number of years and can provide clients with services that will not be equaled or surpassed. If homeowners want their trees to flourish and to live a long life, we guarantee our top-rate arborists have the expertise needed to do an expert job. We can also remove dead, diseased and dying branches that can weaken or kill trees. In addition, removing weak and dead branches increase safety because they could fall and considerably damage homes or badly injure or kill people. We know what we are doing and guarantee our quality tree care services will not be matched or surpassed and will help trees prosper.
If we are hired, we assure homeowners they can trust our experienced team to safely care for their trees. Our arborists have the skills and training to provide homeowners with top quality tree care services in Southlake, TX that will not be duplicated or surpassed by any other company in the region. We use modern equipment and tools and advanced methods that are designed to promote health and growth. We offer the most thorough tree care ever...or it's free. Please contact our office today for a free no contact estimate.