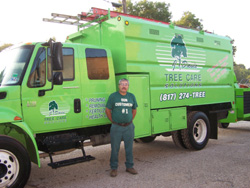 It is a good idea for homeowners to hire experts like us if they are seeking unbeatable and professional tree pruning services in Arlington, TX. Pruning helps trees grow and keeps them healthy. It can also beautify trees and extend their life. Well maintained trees look great and will improve any landscape, which can increase property value and curb appeal. We have been in operation for years and can guarantee our first-rate services will not be matched. Our certified arborists are highly qualified and know how to properly prune trees. When they complete the job, clients will notice their trees have been precisely shaped and trimmed.


Pruning helps strengthens trees so they can stand strong against tough weather conditions and the environment. Our team is well trained and can provide customers with professional tree pruning services that will not be outdone by competitors. Pruning also rids trees of bug infestations and can prevent disease from spreading to other trees on the property. Our services are designed to assist in the growth and health of trees and to help them flourish. We can be trusted to do the job right and promise our skilled crew will not be surpassed.
Safety is one of the most important reasons homeowners should hire experts like us to prune their trees annually. The process removes weak, diseased and dead branches that could fall and harm people, homes or vehicles. In addition, it gets rid of overcrowding and twisting branches and clears away dense leaves that can damage trees or stop their growth. Moreover, these issues can kill trees. We guarantee our professional tree pruning services in Arlington, TX will not be duplicated or exceeded and that the team will do an excellent job. We offer the most thorough tree care ever...or it's free. Please contact us today for a virtual estimate or to setup an appointment.