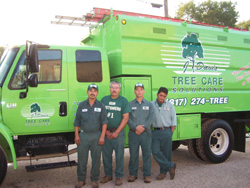 A large limb from the tree in your backyard is coming in contact with your power lines and interfering with the service. From time to time your lights flicker and it is annoying. If you are thinking about trying to cut back the branch on your own, we strongly advise against doing so because cutting trees can be dangerous. We have been operating successfully in your area for years and can provide clients with outstanding tree trimming services in Keller, TX that will not be matched or surpassed by any competing company in the region.
Our skilled arborists know what they are doing and have the training to effectively trim your tree. If you hire us, you can trust the team to use the correct tools and equipment to safely remove the limb that is touching the power lines. Our crew is highly experienced and will not damage to your house, foundation or property during the tree trimming procedure. They have the expertise to do the job right. When they are finished, your tree will be intact and there will not be any more interference with your power service. Plus, the team will clean up the debris before they leave the location.
It is wise to hire skilled and trusted professionals like us because if trees are not precisely trimmed, they could be badly damaged. In addition, trees may die. Cutting trees can also be dangerous, which is why we advise homeowners to contact us for all tree trimming needs in Keller, TX. If you want your tree to be expertly trimmed and to look beautiful when the job is complete, we ask you to give our office a call. Our arborists can provide you with unbeatable services. We offer the most thorough tree care ever...or it's free. Please contact us today to book an appointment.