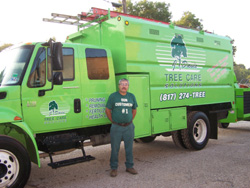 Trees provide shade and are also naturally beautiful. If you want the trees on your property to thrive and live a long life, you will need to take care of them. The best way to achieve this is professional tree trimming in Arlington, TX. We have been in operation for years and will do an efficient job. You can rely on our trained arborists to keep your trees healthy. They are highly skilled and know how to properly trim trees. When done right, trimming can improve the look of trees which can increase property value.

Overgrown trees lose their attractiveness if they are not professionally maintained by experts. Trimming helps shape trees and gets rid of dead and dying branches as well as discolored leaves. If you want to improve the aesthetics of your home, tree trimming is the best option. Trimming can also stop the spread of disease by removing affected limbs and branches and dead spots. If diseased areas of trees are not removed, disease will most likely continue to spread and may kill the tree. Plus, disease could spread to the rest of the plants and trees on your property.

Another good reason to have your trees cut by skilled experts like us is that dead, dying and overgrown tree branches can fall and injure people. If sickly trees are not maintained, they can cause structural damage to your home if they should fall or topple over. It is a good idea to hire a reputable and reliable company that offers top-grade tree trimming services in Arlington, TX that you can trust. Our team has the know-how to do the job right and will not be outdone by the competition. We offer the most thorough tree care ever...or it's free. Get in touch with us today for a free estimate or to setup an appointment.