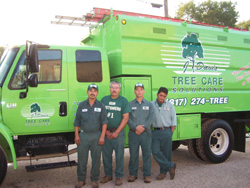 The large oak tree in your backyard has several overgrown limbs that are coming in contact with your cable line. The interference is making the picture reception fuzzy. You want the problem solved as soon as possible. We are a reputable company that has been in business in the area for years. The first-rate tree trimming services in Keller, TX we offer will not be duplicated by our competitors. Our skilled, trained and certified arborists know how to properly trim trees. If you want the issue to be addressed quickly and to be done correctly, we highly suggest getting in touch with us today.


Overgrown branches can also weaken and damage your tree and may cause it to stop growing. Moreover, weak branches could snap loose and fall on your house or on people. The damage to your home could be significant and the injury to a person could be severe or deadly. Our crew knows how to safely trim trees and will do it with precision and skill that you can trust. The tree trimming services we provide can also enhance the shape of your tree. Trimming helps trees thrive and can prevent branches from overgrowing such as the ones touching your cable line. If you hire us, we guarantee our team will do an efficient job.
We will arrive on time and will have the right tools and equipment. Plus, we will quote the price upfront. Our team knows what they are doing and will not be outdone. If you want expert services by trained professionals, we ask you to call our office today. Our crew can be trusted to provide you with unbeatable tree trimming services in Keller, TX that are unsurpassed. We offer the most thorough tree care ever...or it's free. Please call our office today for a free estimate or to book an appointment.