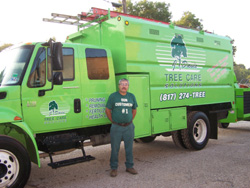 We can take down any tree on your property and will do it skillfully and with care. Our certified arborists use controlled methods to properly remove trees. We offer expert rigging to ensure the job will be done right. We work safely to reduce the risk of damage to your property. The equipment we use such as cranes, harnesses, chainsaws and wood chippers are designed to minimize accidents and to make the job more efficient Our team has years of experience and can offer you with top rate tree removal services in Arlington, TX that are unsurpassed. We will quote you a price before we begin the work.
Cutting down a tree can be a hard decision for many for homeowners for various reasons such as cost, sentimental values and a change in the aesthetics of their landscape. It is not easy for people to decide to remove their trees, especially if the tree is old and provides shade. Unfortunately, tree removal is necessary due to severe damage, rot, disease and other issues. Plus, dying and dead trees have to be taken down for safety reasons. Sometimes, trees have to be taken down because they are interfering with power lines or are too close to structures. We also provide stump grinding and will haul away the wood and cleanup the debris.
You trust us to have the right tools and equipment for the job. We are skilled experts who know how to properly remove any tree from your property. If you have a tree that needs to be cut down, we suggest that you give us a call. It is unsafe and unwise for homeowners to attempt to take down trees on their own. Our tree removal services in Arlington, TX are highly efficient and reliable. We offer the most thorough tree care ever...or it's free. Contact us today.