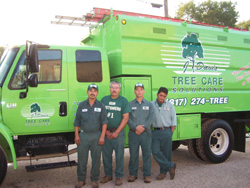 The large tree in your backyard has overgrown limbs that are coming in contact with your power lines. It is wise to hire skilled professionals like us to trim the tree before the issue worsens. If the branches are not cut back, they could sever or break the power line and cause interruption to your service. Our business has been in existence in the area for years and can provide expert tree trimming in Southlake, TX that is unsurpassed. Our certified crew is highly trained and can properly trim any tree. We use industrial grade equipment and modern techniques to ensure that trees are safely and accurately trimmed.


Our team will not be outdone by the competition. They are very efficient and will do an outstanding job. Plus, you can rely on our arborists to take precautions to make certain your house, foundation and other trees are not damaged during the process. Cutting branches takes precision and skill and if you hire us we guarantee our crew will do the job right and efficiently. We are a reliable company that has many repeat customers that praise our work and recommend us to others. The top-rate tree trimming in Southlake, TX services we offer will not be equaled.


Trimming your tree will prevent the branches from touching the power lines. In addition, it will give the tree a natural and beautiful shape. Trimming can make trees healthier and also helps them grow. Moreover, it can extend their lifespan. It is wise and beneficial to the health of trees to have us trim them regularly. We provide services that will not be matched by our competitors. If you want expert tree trimming, we advise you to contact our office. We offer the most thorough tree care ever...or it's free. Book an appointment today ask for get a free estimate.