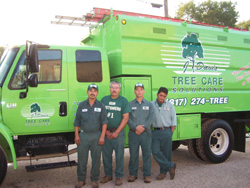 The apple trees in your backyard are beautiful and produce many delicious apples that you enjoy eating and making pies and other treats with like jelly or strudel. Unfortunately, a few of the trees have twisting and overgrown branches and dense patches of foliage that are harming them and preventing proper growth. If you want your trees to flourish and to be properly trimmed, we can offer you top–rate tree trimming services in Southlake, TX. We recommend that you do not trim your own trees because you could damage or kill them.

Our certified and trained arborists are highly skilled and will do the job right. If you hire us, you can trust our experts to cut the twisting and overgrown limbs and to remove the thick leaves. We have been in operation for years and will an efficient job. Our team will also shape your apple trees, which will help them thrive and grow. The tree trimming services that we provide will not be beat by any competing company in the area. We are mindful of your property and use safety measures to ensure that we do not harm your trees, foundation or property. Plus, we make certain not to come in contact with your cable, telephone or power lines during the trimming process.

If you are seeking expert services that will not be duplicated, we suggest that you give us a call. We are experienced professionals that you can trust. Regularly scheduled trimming keeps trees healthy and strong and will help them produce more fruit. Our tree trimming services in Southlake, TX strengthens trees and are designed to help trees blossom. You can depend on our trained arborists to properly trim your trees. We offer the most thorough tree care ever...or it's free. Contact us today for an estimate or to book an appointment.