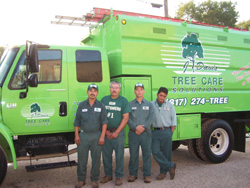 Overgrown tree branches obstruct views and can also block sidewalks, walkways and driveways. We can provide you with professional tree trimming services in Keller, TX that will not be matched by our competitors. Our skilled arborists have the training to safely and properly trim trees. Twisting, intertwining and overgrown tree limbs can also prevent sun from reaching grass, plants and shrubbery, which could affect their growth. We have been operating in your area for years and can provide you with top-rate services that you can trust.
It is also a fact that overgrown limbs can weaken trees, which could be hazardous. The limbs or entire tree could fall on your home and cause major damage. Plus, the tree or branches could fall on you and badly injure or kill you. Our expert team knows how to trim trees, which will improve safety and enhance the look of your landscape. Plus, our first-rate tree trimming services will help increase sunlight, which can help plants, shrubs and grass thrive. Trimming also shapes trees and helps them live longer. We highly advise that you have your trees trimmed regularly to keep them looking great and in good condition.
If you hire us, we guarantee that our skilled experts will do the job safely and efficiently and will not be outdone by the competition. You can trust us to properly trim any tree on your property. If you want outstanding services that will not be duplicated, we ask you to contact us as soon as possible. We are a highly reputable and dedicated company that you can count on to provide you with unbeatable tree trimming services in Keller, TX. Our highly qualified arborists have the skills and equipment needed to do an efficient job. We offer the most thorough tree care ever...or it's free. Contact us today to setup an appointment.