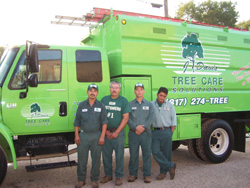 When trees become overgrown, they can obstruct views as well as walkways or driveways and should be trimmed. We can offer you top-grade professional tree trimming services in Arlington, TX that will not be outdone by the competition. Our arborists are well trained and have the skills to safely and properly trim any tree on your property. Overgrown trees can also block the sun from reaching your lawn, plants and shrubbery, which could stop them from growing. We have been in operation for years and assure you that we can provide you first-rate services that will not be matched.
Overgrown limbs can weaken trees and branches, which can be very dangerous. The tree or limbs could fall on your house or car and cause significant damage. More importantly, they could fall on you or your loved ones and cause severe injuries or possibly death. Our expert arborists can properly trim your trees, improve your views and increase sunlight on your property. Plus, or tree trimming services can enhance the appeal of your landscape. Trimming makes trees grow healthy and strong and shapes trees. It is a good idea to have your trees trimmed on a regular basis to enhance their appearance and to keep them in good condition.
Our crew is very efficient and will do the job right. You can rely on them to properly trim your trees and to help them thrive. If you are looking for outstanding services that are unsurpassed, we urge you to give us a call. We are a well-established and highly reputable company that you can trust to provide you with expert tree trimming services in Arlington, TX. Our certified arborists know what they are doing and will not be outdone. We offer the most thorough tree care ever...or it's free. Contact us today to schedule an appointment.