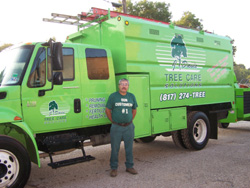 If homeowners are seeking quality tree care services in Keller, TX, we can provide them with whatever they need. Our skilled and trained arborists have the expertise to trim and prune trees or remove dead or damaged trees. They know how to properly trim and prune trees to promote health and growth and will not damage trees during the process. Ii is a fact that if trimming and pruning is not done right, trees can be permanently damaged, or they could die. If we are hired, homeowners can rely on our team to properly care for their trees.


Emergencies can happen at any time such strong winds toppling over trees. Our crew can safely remove the tree in a situation such as this and will do it promptly and efficiently. Our skilled and certified team will not harm any other trees on the property and will not damage homes or cars during the procedure. They are well trained and know how to properly secure trees before taking them down. We are a reputable company that has been in operation in the area for years. We guarantee our crew provides top quality tree care services that are unsurpassed.
Our arborists will arrive on time and will be prepared to start working right away. They will have the correct tools and equipment to do an efficient job whether it's trimming, pruning or tree removal. We offer true and upfront estimates without any hidden fees and our prices are reasonable. The services we offer will not be duplicated or exceeded by any competing company in the region. Homeowners can trust our expert team to be highly skilled, trained and professional and to provide them with reliable and top quality tree care services in Keller, TX. We offer the most thorough tree care ever...or it's free. Please contact our office today for an appointment.