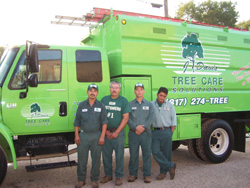 Large branches from one of the trees in your backyard are making contact with your power lines. It may be tempting for you to climb a tall ladder and try cutting the limbs yourself. We strongly advise you not to try doing something so potentially dangerous. You could fall and risk getting hurt or worse. Plus, you could touch, fall against or cut the power line and face injury or death. Our arborists are well trained and are tree trimming experts in Southlake, TX you can trust. We use the right tools and equipment to ensure the job is done properly and safely. Our company has been in operation in the area for years and will not be outdone.


Skilled arborists have the expertise to trim the branches without harming the tree. If trees are not properly trimmed, they could stop growing or may die. Our advance techniques are safe. Plus, we use the correct methods for every job we undertake. You can trust our crew not to damage your house, grass or other trees during the tree trimming procedure. Our skilled experts know what they are doing and are well experienced. When they are done, we guarantee the branches will no longer be interfering with the power lines. In addition, your tree will be intact when the crew leaves the premises.
It is always wise to hire professionals like us for these types of jobs. Doing so can prevent damage to your home, tree and power lines. If you want the tree branches to be safely and correctly cut, we strongly suggest that you call our office today. We are skilled experts that can provide you with unbeatable tree trimming services in Southlake, TX that competing companies in the region will not surpass. We offer the most thorough tree care ever...or it's free. Contact us to book an appointment.