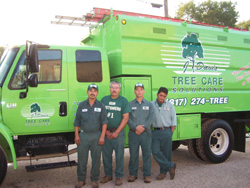 Getting rid of dead and dying trees and damaged and diseased trees is sad but necessary. Dead, damaged or dying trees can be dangerous and should be cut down by reputable professionals as soon as possible. It is not a smart idea for homeowners to try to cut down trees on their own because they do not have the right equipment to it safely. The tree could fall and might injure or kill you and may also fall on your home and cause major damage. If you have a tree that needs to be taken down, we suggest that you give us a call. We are well experienced and offer quality tree removal services in Southlake, TX that are unequaled.
We know that it is a difficult choice for homeowners to decide to have a tree cut down. However, there are times when damaged trees have to be taken down to ensure safety. Dead trees are weak and can topple over without notice. The tree must be properly braced and cabled before it is removed. Our skilled arborists have the right equipment and tools to brace weakened trees and know how to remove them safely. We have been offering top quality tree removal services in your area for years and can be trusted to do the job right.
If you have a dead or damaged tree that needs to be taken down, we can provide you with first-rate services that will not be surpassed. Removing a tree should be done by qualified and certified experts like our trained arborists. We assure you that they will safely remove the tree and will clean up when they are done. Our arborists are highly skilled and can provide you with top quality tree removal services in Southlake, TX that will not be beat. We offer the most thorough tree care ever...or it's free. Contact us today.