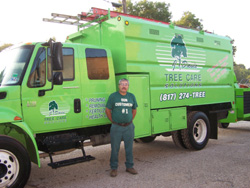 A fruit tree needs to be trimmed back when its branches start to stretch too far because it will not have the nutrients it needs to grow good fruit if it is too focused on giving nutrients to those branches. If a tree is getting too big, too quickly, that tree might struggle, and it might end up in poor shape. If you have a tree on your property that seems to be growing a little too quickly, and you are worried that you will not be getting fruit from it anytime soon, get our quality tree care services in Arlington, TX and let us prune the tree and help it be healthy.
There are different types of insects that can make their home in a tree and then cause damage to that tree. It can be a scary thing to look out at one of your trees and see that there is a branch that has died on it or that some type of insect has built a visible home in its leaves. We can come when you have noticed insects attempting to kill your tree. Our quality tree care services will make sure that insects are no longer a problem and that your tree is free to grow as it wants.
Figuring out what is going on when a tree is not acting how it used to act is important. If you see a big difference in how your tree is growing one year compared to how it was growing the year before that, you want to figure out what is going on. When you are looking for quality tree care services in Arlington, TX from someone who will be thorough in looking over your tree, reach out to us. We offer the most thorough tree care ever... or you won't have to pay us for our work.