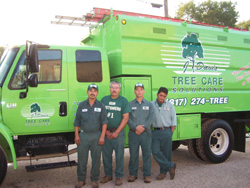 ---
A few of the trees on your property appear to have broken and low hanging branches, which can be hazardous. We are a well-established business that offers high quality tree care services in Keller, TX that are unequaled. You can trust our services because our skilled technicians are highly trained and have the know-how to properly care for your trees. It is not a good idea to wait to have broken branches removed because they could fall at any time and could harm you or damage your home. Our team has years of experience and has the skills to safely remove the broken and low hanging branches, which is why we advise you to contact us for the job.
You can also be assured that the crew will not cause any further damage to your trees. Our arborists are licensed and certified and can be trusted to do the job right. We strongly advise you to never attempt to trim or remove heavy branches or limbs. It is best to contact professionals to do the job. The quality tree care services that we provide will not be surpassed. You can depend on our skilled team to use the proper equipment and to do the job safely. Removing trees is dangerous work and should always be done by trusted and experienced experts like us.
If you hire our company, you can expect our team to safely remove the damaged and low hanging branches from your trees. Our techs are highly qualified and will provide you with quality tree care services in Keller, TX that will not be matched by the competition. You can rely on us to use advanced methods and equipment and to take every safety precaution and to do the job right. We offer the most thorough tree care ever...or it's free. Contact our reputable company today to setup an appointment.