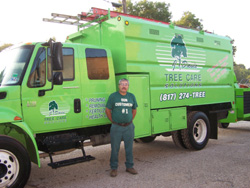 The thunderstorm last night badly damaged the large tree in your backyard, and it should be taken down as soon as possible. There are several broken branches that could fall at any minute and damage your house, break a window or fall and injure you. It is wise to hire skilled professionals like us. We can provide you with quality tree care services in Keller, TX that will not duplicated. Our skilled and trained arborists are having the expertise to do the job safely. When trees have been significantly damaged, they should be taken down immediately. We are a well-established company that has been in business for years and can provide you with the services you need.

Our certified arborists have been properly trained and will take every safety precaution before they begin the job. It is highly recommended that homeowners do not attempt to cut or take trees down on their own. Doing so could be very dangerous or deadly. You can trust our experienced team of experts to offer quality tree care services that are the best in the region. Moreover, you can be assured that our crew will not harm any other trees on your property and will not damage your home.

In addition, the crew will be mindful of your phone, power and cable lines and will not touch them during the removal process. Our crew is highly trained and has the skills to provide you with top quality tree care services in Keller, TX that will not be beat by any other company in the region. The crew will safely remove the damaged tree from your property and can be trusted to do the job right. We offer the most thorough tree care ever...or it's free. We urge you to contact us today for a free estimate and to schedule an appointment.