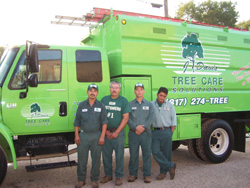 Lightning struck one of the large trees on your property and caused significant damage to the tree. The tree is leaning to one side and has several bent and broken branches that could fall at any moment. It is best to hire us for our quality tree care services in Keller, TX that are unsurpassed. Our arborists are highly trained and have the skills to safely remove your tree. When a tree is leaning and has been damaged, it is best to have it taken down right away. We have been in business for many years and guarantee that our crew will do the job right.
Our certified technicians are well experienced and know how to properly trim and brace trees before they begin the removal process. It is not wise to attempt to remove trees on your own. Removing large trees can be dangerous and should always be performed by expert arborists with years of experience. You can rely on our team to have such knowledge. We offer quality tree care services that will not harm other trees on your property. In addition, you can trust that our crew will utilize the proper equipment and tools to remove the tree.
The team will take every precaution to ensure they do not cause any damage to your home and power lines or to any of the other trees on your property. Our crew is highly efficient and will provide you with top quality tree care services in Keller, TX that are will not be matched. Stumps are ugly and can alter curb appeal and can bring down the value of your home, which is why we suggest hiring us to grind the stump after the tree has been removed. We will clean up any debris when the job is complete. We offer the most thorough tree care ever...or it's free. Contact us today.