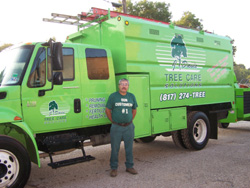 Fertilization helps trees grow strong and live longer. In addition, it can help dying and diseased trees thrive. We are a reliable and reputable company that offers first-rate tree fertilization in Keller, TX that you can depend on. Typically, trees flourish after various fertilization treatments. This process aids trees by enriching and nourishing the soil. Minerals found in soil such as iron, zinc and copper are essential to the growth and health of trees. Our certified arborists will test your soil and properly treat it so that your trees can blossom and stand tall and beautiful all year long.
If your trees are severely damaged by disease, our team will treat the roots of your trees. This type of tree fertilization can eliminate diseases and can bring dying trees back to life. The nutrients that the tree gets strengthens it and helps it fight diseases. Fertilizers can revive dead or dying trees, but it must be done correctly. If it is not done right, the problem could worsen, and the tree could die. You can rely on our team of experts to properly inspect and treat your trees. We have been in existence for many years and have the experience and skills to do an efficient job.
Treating the soil can also help trees receive the necessary amount of oxygen they require to grow and prosper. Adding nutrients to the soil loosens it and allows air to circulate and reach the roots. Fertilization ventilates the soil and helps trees receive the right amount of water they need to survive. Our invaluable tree fertilization in Keller, TX process can help your trees grow and will keep them strong and healthy. If you hire us, we guarantee your trees will thrive. We offer the most thorough tree care ever...or it's free. Contact us today for an appointment.