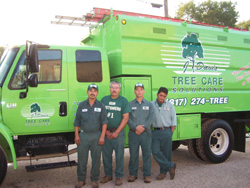 Low hanging limbs from the oak tree in your front yard are obstructing the walkway and part of the sidewalk. If you want the tree to be properly cut, we ask you to give our office a call. Our certified and highly trained arborists can offer expert tree trimming services in Southlake, TX that will not be matched or beat by any competitors in the region. You can rely on our team to do an outstanding job. In addition, you can trust them to use industrial-grade tools and equipment to ensure your tree will not be harmed during the process. When they are done, we guarantee your tree will look great and the branches will no longer be blocking the sidewalk or walkway.


Our crew has the experience to safely cut and remove branches and will make sure to keep your tree's natural shape. It is best to hire professionals like us to trim your trees regularly to avoid various issues like overcrowding, dense spots and low hanging branches. The tree trimming services that we provide protects trees and keeps them promotes health. Our well established and reputable company has been in operation for years and our arborists know what they are doing. If you still need convincing, we invite you to read the positive reviews we continuously receive by our many satisfied clients.


It is a fact that regular trimming strengthens trees and helps them thrive and grow strong. Plus, it helps live longer. If you hire us, we assure you that our team will provide you with first-rate tree trimming services in Southlake, TX that will help your tree flourish. You can depend on our arborists to safely and properly trim your tree. We offer the most thorough tree care ever...or it's free. Contact us today for a free no contact estimate or to book an appointment.