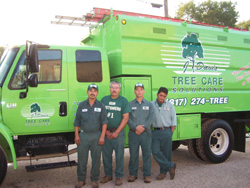 Trees need to be maintained for their health, growth and for aesthetic purposes. You could try to trim your trees on your own, but if you make a mistake you may damage the tree or cause the tree to die. Plus, if you do not trim it properly it could end up looking crooked or uneven. We have been in operation for many years and can offer you expert tree trimming in Southlake, TX that will not be matched by any competing company in the region. We have the proper equipment and tools as well as the know-how to do the job correctly and safely.
Our certified arborists are highly skilled and have the training and know-how to trim trees without causing any damage to the tree. If you hire us, we guarantee that our team will do an excellent job. The tree trimming services that we provide will not be duplicated or surpassed. We can remove dead spots, overgrown areas and low hanging limbs that will help your trees grow and will make them look beautiful and robust. Plus, trimming trees eliminates the possible danger from a falling branch or limb. Weak limbs could fall on your home or car or could fall on you or household members. To prevent this from happening, we strongly advise you to contact us for our expert services.
Trimming trees can also increase sunlight and can help trees get proper air circulation, which can help them grow and thrive. Plus, it can improve their health. In addition, tree trimming in Southlake, TX can eliminate diseases and bug infestations. If the tree is diseased or infected and if it is not treated in a timely manner, it may stop growing and could die. We offer the most thorough tree care ever...or it's free. Give us a call today for an estimate or to setup an appointment.