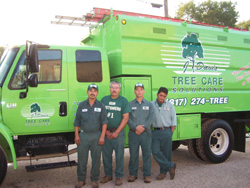 Wildly growing branches from the large tree in your yard are making contact with your house. The scratching sound is very annoying and disturbing your sleep. Plus, the branches are damaging the aluminum siding on the house. You may be thinking about trying to cut the limbs on your own. We strongly advise against this due to the dangers it poses such as falling off the ladder or harming or killing the tree. It must be stressed that tree trimming in Arlington, TX can be extremely dangerous and should be done by well-trained experts. Our experienced company has been in existence for several years and offers first-rate services.


If you hire us, you can trust that our certified crew has the expertise to perfectly trim back the branches. Plus, you can trust them to utilize the right tools and equipment to do the job right. Our technicians are highly skilled and will not damage your home or tree during the tree trimming procedure. When the team is done, we guarantee the limbs will no longer contact the siding, which will allow you to sleep well at night. In addition, you can trust the crew to clean up the debris and return your property back to the state it was before we arrived.
We advise homeowners to hire experts like us for the job. Our team has the know-how and skills to correctly trim trees. Plus, our crew will not damage the tree or any other trees on your property. We ask you to give our office a call if you want your tree to look great and to be properly trimmed. We provide homeowners with exceptional tree trimming services in Arlington, TX that will not be surpassed by the competition. Our company provides the most thorough tree care ever...or it's free. Contact us today.