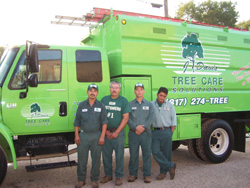 Low hanging branches are coming in contact with your cable lines and causing interference with your television reception. In addition, thick foliage is blocking the sun, which could affect your trees, lawn and plants. If you are looking for reliable tree trimming services in Arlington, TX that are unsurpassed, we ask you to give us at your earliest convenience. You can rely on our expert team of skilled arborists to properly and safely trim back the low hanging branches. Plus, you can trust them to remove the dense greenery blocking the sun. When our team is done, we guarantee the tree limbs will be properly trimmed and sunlight will shine through to the ground.
Our certified arborists are highly skilled and the training and expertise to do the job right. We assure you that your beautiful tree will not be damaged during the trimming process. It is best to have trees professionally trimmed on a regular basis to keep them in good condition. The expert tree trimming services that we provide will not be beat. If you hire us, we promise you can rely on our team to do and efficient job. We are a very reputable and trusted company in the area that has been in existence for years. Many of our satisfied customers rate us highly and often refer us to family and friends.
It is simple. If you want your trees to look great and to grow tall, healthy and strong, we recommend that you have them trimmed regularly by trusted experts like us. Our team has the skills and training to provide you with the top quality tree trimming in Arlington, TX that will not be outdone by the completion. You can trust our services to help your trees flourish. We guarantee that we offer the most thorough tree care ever...or it's free. Contact us today for a no contact and free estimate or to schedule an appointment.