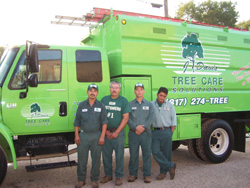 Dead trees can be dangerous if they are not properly taken down by a skilled tree removal team in Arlington, TX such as our certified arborists. They are well trained and work safely and efficiently, which means you can trust them not to damage your home or any other trees on your property. We suggest that homeowners never attempt to cut down trees with their own tools such as a chainsaw or axe because they could get hurt if the tree should fall. Plus, you could damage your lawn or foundation or hit a power line. Hiring us for the job would be a wise decision because our team knows what we are doing and will have the proper equipment for the job.
Avoiding serious injury from a falling tree limb or tree is one the best reasons for hiring professionals. Weak and broken branches can fall without warning and could severely injure you or badly damage your house. More importantly, you or a family member could be killed by a falling tree. Our services can prevent damage to your property and will keep you and your family out of harm's way. Cutting down trees is an extremely dangerous task and should only be performed by experienced experts that have the right equipment for the job. You can rely on us to protect you and your property during the tree removal process.
If you hire us, we guarantee our team will not damage your home and that your other trees will be intact when the job is complete. They will safely remove the dead tree from your property and will clean up before they leave. When they are done, your landscape will look pristine. Our tree removal services in Arlington, TX are unsurpassed. We offer the most thorough tree care ever...or it's free. Contact us today to schedule an appointment.