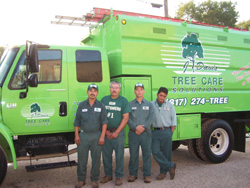 If you have a tree in your garden, then you may be worried about it encroaching on your property. However, in most cases simply trimming the tree will be enough to prevent any serious damage occurring. This process will involve cutting back some of the branches on the tree so that tree remains healthy. We always recommend that any tree trimming in Arlington, TX is carried out by a professional in order to prevent any damage being done to the tree. David Tree Care offer a comprehensive tree trimming service and so we will be able to provide you with all the tree care that you need.


At Davis Tree Care we take pride in how skilled our employees are. They all have many years of experience and can handle any job with ease. When you hire us to take care of your tree trimming in Arlington, TX for you, we will carry out an assessment of the tree and the work that needs carrying out. We will then discuss this with you and give us our recommendations of how we would proceed. If you are happy with this, then we will be able to begin work immediately. We will never start any work on your tree without consulting you first.
We guarantee that you will receive the most thorough tree care ever...or it's free. After we have worked on the tree, we will advise you about the steps that you can take to make sure that your tree stays healthy. You can call on us at any time with any questions that you have about tree care. If you require any of our other services, then we would be happy to provide you with a free no-obligation quote.