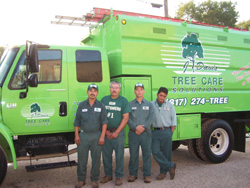 Tree care in Keller, TX is a service that involves a couple of tree management activities, including tree removal, pruning, and trimming. Often the services are a complete package needed for gardening. Most of the time, the tree outgrows requiring some adjustments and beatification or comprehensive removal. That is the time you find yourself in need of a professional tree care expert to help you. While searching for the best quality tree care services professional, you have to consider the following:
1) Experience and Expertise
With a simple online search, you will have a long list of tree care service providers. But what you don't know is, most of these companies are not reliable or reputable. You have to ensure you're hiring a company that you can trust to leave you with a well-done job. Check the website; it needs to be authentic and well-maintained with all the services listed. Another thing read some online reviews and get some online opinions.
2) Appropriate Tools and Equipment
One of the key reasons for hiring a tree care service is the lack of the right tools and equipment. Right? Well, that brings us to the next point where you've to ensure the tree care company you're about to hire uses the right tools. After getting the company details from their website, you can decide to visit their offices to be confident they're legit. While at it, check for the tool and equipment they use.
3) Verifiable Insurance
Tree care involves some risks that can get the workforce to severe problems. And since you're hiring a company that you want to be highly professional to give quality tree care services, you might want to make sure they have valid insurance. Today, technology has simplified our services, and you can quickly check for their coverage online. The liability of their workforce against accidents or injuries must not be your issue to handle.
4) Written quote
While most tree care services in Keller, TX tend to claim to be in the tree business for a long time, most of them are newbies, and they don't have a realistic quote. You need to consult with your neighbors and friends to know the price range and ask your selected company for the same to compare. If they give you a quotation near the values you got from your friends and family, well, you can hire them.
That should get you a reliable and well-reputed company to give your trees quality tree care services.