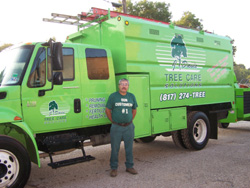 Taking the time to look over the trees in your yard can be difficult, especially if you already have a lot of responsibilities and you are always struggling to get your work done. Taking time to trim back some of the branches on your trees can be a lot for you, but you still want your trees to look nice. As much as you do not have time to make sure that your trees are in the kind of health that you want them to be in, you still want them to receive good care. We offer quality tree care services in Keller, TX, and we make sure that your trees receive all of the help that you would give them if you had the chance to really focus on them.


You understand the importance of not only caring for each one of your trees but also making sure that the whole tree is trimmed, fertilized, and given the help that it needs to prosper. When we provide you with help for your trees, we are focused on the whole tree. We figure out if there is pruning work that must be done and then we work on fertilizing the trees. We make sure that the leaves, the bark, and the root of the tree are all in good health. When you entrust your tree care needs to us, we will provide you with the most thorough services or you will not have to pay us.


Our quality tree care services in Keller, TX are meant to not only make your trees look nice but help them grow taller. If you are looking to have a small tree get to the point where it is offering shade to your yard, trust us to help that tree receive all of the food that it needs to grow.