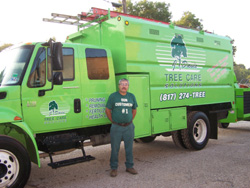 Trees should be maintained on a regular basis, to keep them neat, to keep them healthy, and possibly to prevent damage to property. However, trees need to be looked after by professional tree surgeons instead of people attempting to trim trees or cut off branches by themselves. It makes far more sense to hire local experts and get the job done properly at the first time of asking. It means that you do not have to risk your safety, or harm trees by doing things wrong. In this district our company provides a wide range of tree care services.
Professional tree surgeons like our team may make tree trimming in Arlington, TX look easy yet it is not as straightforward as it seems. Our staff have been well trained, have years of experience besides the correct equipment for cutting, pruning and trimming trees. This means they are able to do the job without harming themselves or the trees. Knowledge and training allows our staff to do each job properly and no disruption to you or your property. Trees on your property are in safe hands with us. Our cost effective and efficient services will mean trees are tidy and keep your garden or yard tidier.
Our tree trimming services in Arlington, TX are of the highest quality, meaning that we will trim trees on a regular basis to keep them neat, and also to promote healthy growth. How regularly you would need to use our services varies according to the number of trees, the age and the type of trees on your property. Such is the quality of our work that many clients call us back whenever trees need to be cared for.
Call us today for an estimate, and we will arrange work at the time that suits you best. We offer the most thorough tree care ever... or it is free.