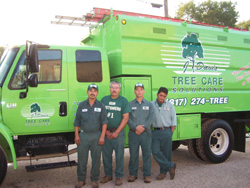 One of the large trees in your front yard has overgrown branches and limbs that are obstructing picturesque views from your front window. Plus, dense foliage is blocking the sun from reaching your plants, shrubs and grass. If you are seeking trusted professionals to properly trim the tree, we ask you to give us a call. We have been in operation for years and can offer first–rate tree trimming services in Southlake, TX that are unsurpassed. We advise homeowners to refrain from attempting to trim their trees because they could severely damage or kill the tree.
If you hire us, you can rely on our certified arborists to do an efficient job. They are well trained and have the expertise to do an efficient job. Our team members know what they are doing and will trim and shape your tree correctly. When the job is complete, your tree will look great and will thrive. The tree trimming services we provide are first-rate and will not be beat by any competing company in town. Our skilled team utilizes techniques that promote tree health and that helps trees live longer. You can depend on the team to do an outstanding job and can trust them not to damage your home or any other tress during the procedure.
We are reliable experts that have the experience to skillfully trim trees. If you want your tree to be healthy and to flourish, we highly recommend regular tree trimming intervals in Southlake, TX. It is the best way to remove overgrown branches so sunlight can reach the ground and will give you beautiful views from your front window. You can trust our trained arborists to safely and properly trim your tree. We offer the most thorough tree care ever...or it's free. Contact our office today to schedule a free no contact estimate.