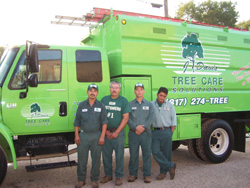 Trees look beautiful and add appeal and value to homes and property, but if they are not properly cared for they can fail and die. You could trim your trees on your own, but we advise against that because you could cut them incorrectly and damage their health and stop their growth. We have been in operation for many years and offer you outstanding tree trimming services in Keller, TX that will help your trees thrive. If you hire us, we guarantee our expert services will not be matched or outdone by the competition.
Our certified arborists are highly skilled and have the training and skills to trim your trees the right way. You can trust them not to harm your trees during the process. In addition, you can rely on them to use the proper equipment and methods to get rid of dead spots and broken and weak branches. The crew will also remove or trim any branches or limbs that are interfering with power, cable or telephone lines. Our tree trimming services also include the removal of overgrown branches or limbs that are obstructing walkways, sidewalks or driveways.
Tree limbs can also block views from windows. If you want to see out of your front or back window again, we suggest that you give us a call. We will shape your trees and will trim them, which will make your trees look robust. The tree trimming services in Keller, TX that we offer will not be surpassed and will help your trees stand tall and strong. We use advanced equipment and modern methods to safely trim trees. If you want the job to be done right, we guarantee that our professional crew can provide you with first-rate services. We offer the most thorough tree care ever...or it's free. Contact us today for an estimate or to make an appointment.