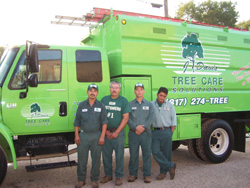 Large and low-hanging tree limbs can block scenic views from windows and can also obstruct sidewalks, walkways or driveways. To prevent this from happening, it is a good idea to hire skilled professionals to cut the branches. We are a trusted company that has been in operation for years and has the experience to do the job safely and correctly. Homeowners can depend on our arborists to provide them with expert tree trimming services in Arlington, TX that will not be duplicated or surpassed. Our certified crew has the know-how to safely trim trees.


Overgrown branches can prevent new growth, which can cause trees to die. The tree trimming services that we offer are first-rate. Our arborists can be trusted to successfully remove overgrown branches that help trees thrive. We can also trim back limbs that are interfering with cable, phone or power lines. It is important to keep branches away from various lines because it could cause power outages and phone and cable interferences. Cutting tree limbs can be extremely dangerous and should be performed by skilled technicians. Our experts are highly skilled and can provide homeowners with safe tree trimming services that will not harm their home or foundation.


If trees are misshaped, trimming can improve their appearance. In addition, trimming strengthens and helps trees blossom. It can also extend the life of trees, which is why it makes sense for homeowners to have their trees trimmed on a regular basis. We are a well experienced and reputable company that has been in existence for years. If you hire us, we guarantee our skilled team will do the job right and will not be outdone by the competition. Our top-quality tree trimming services are unequaled in Arlington, TX. We offer the most thorough tree care ever...or it's free. Give us a call today to schedule an appointment.