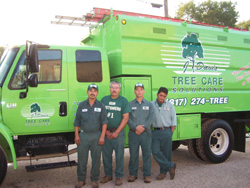 Low hanging tree limbs are interfering with your cable lines and with football season starting, you do not want any interruptions with your reception. You were tempted to climb a ladder and cut the branches but thought better of that idea and decided to contact trained professionals. If you want the job to be done right and are seeking expert tree trimming services in Arlington, TX, we suggest giving our office a call. We have been in operation for years and our skilled arborists know how to safely and properly trim trees. When the crew completes the job, you can be certain the low hanging branches will be precisely cut and the tree will be beautifully shaped.


Our certified team is highly skilled and has the expertise to do an outstanding job. Plus, we can guarantee your tree or any other trees on your property will not be harmed during the procedure. In addition, your home will not be damaged. It is wise for homeowners to have their trees professionally trimmed regularly in order to keep them healthy and strong. The first-rate tree trimming services we provide are unsurpassed. We run a very reputable business in the area and have many satisfied and repeat customers that rate us highly on various consumer report sites.
If you want your tree to be expertly trimmed and want it to look good when the job is finished, we ask you to contact us as soon as possible. Our crew is well trained and has the qualifications to provide you with top quality tree trimming services in Arlington, TX that will not be duplicated or beat by the any competing business in the region. Homeowners can rely on our skilled arborists to expertly trim their trees. We offer the most thorough tree care ever...or it's free. Please give us a call today to book an appointment.