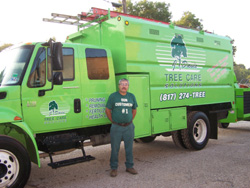 We know that as a homeowner you value your trees because they add beauty to your landscape. To keep your trees in good shape, they must be properly maintained. One of the best ways to keep your trees healthy and looking great is to hire professionals like us that offer expert tree trimming in Southlake, TX. When trees are shaped correctly, they can improve the aesthetics of your home and can also enhance its value. Regular trimming can also help extend the life of trees. If you want the trees on your property to stand tall and to be in the best shape, give us a call. We have been in business for many years and will do the job right.
Our tree trimming services can also remove weak branches and limbs that could fall, which could be highly dangerous. They could fall on you and cause serious injuries, or they could fall on your home and cause significant damage. Removing weak or broken limbs is part of our services that helps ensure your safety and protects your home. If you have your trees trimmed, it can eliminate the possibility of branches falling, which could save you money. If a branch were to fall on your house or car, the cost to repair the damage could be very high. Plus, it a branch fell on you, the medical bills could be astronomical. The services that we provide can remove those possibilities.
Another wonderful thing about having trees trimmed is that it helps improve their overall health. It can also prevent overcrowding, which can kill trees. Our tree trimming services in Southlake, TX will not be surpassed and can also help your trees thrive and grow strong. If you want your trees to look great and to be healthy and live longer, we assure you that we offer the most thorough tree care ever...or it's free. Contact us today to book an appointment.