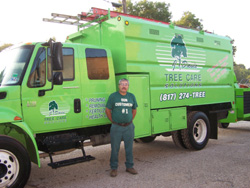 Trees can grow haphazardly and uncontrollably and can ruin your home's landscape or foundation. When this happens, it may be best to consider tree removal in Arlington, TX to correct the problem. We have been in operation for years and can provide you with expert services that you can rely on and trust. Our certified arborists are highly skilled and trained and know what they are doing and can be trusted to do an efficient job. If you hire us, you will also save money and time.
For any homeowner planning to cut down trees on their own, we strongly urge them to reconsider that decision. In most cases, you will not have the proper tools or equipment, which will make the task nearly impossible to complete safely and efficiently. Tree removal can be very difficult and extremely dangerous and should be done by trained and skilled experts like our crew. Overgrown trees can destroy your grass, driveways and can obstruct sewers and foundations, which is why it is best to have them taken down as soon as possible to avoid these issues.

We also encourage homeowners to hire professionals to service their trees on a regular basis to keep their property safe. Overgrown trees and roots can ruin the landscape and can destroy foundations. Plus, some overgrown limbs can become weak and could fall on your home or on a loved one. Hiring a reputable and experienced tree removal company in Arlington, TX such as ours is good idea and can protect your home. Our skilled team will do the safely and will protect your house. Removing overgrown trees will increase safety on your property and will also improve the look of the landscape. Our skilled team can offer the most thorough tree care ever...or it's free. Contact us today for an estimate or to schedule an appointment.