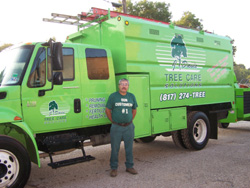 The low hanging branches blocking your driveway and are also coming in contact with your garage roof. You may be thinking about trying to cut the limbs on your own, but that may turn into a disastrous situation. It takes balance and expertise to climb ladders and to cut branches. In addition, the right tools and equipment is needed to do the job correctly. If you slip or fall from a ladder rung, you may get badly injured or killed. Plus, if limbs are not properly cut, the tree could die. It is best to hire experienced pros like us for this kind of job. Our skilled technicians can provide you with quality tree care services in Southlake, TX that are unmatched by the competition.
Hiring our reputable company means the job will be done right, quickly and safely. If you wait to take action, branches could fall and injure people, or they could fall and damage the garage roof. Low hanging limbs can be hazardous and can fall on people and could fall and damage your property. Our crew is well trained and knows how to safely trim branches and will make certain the tree and work area is secure before they begin the job. In addition, you can trust or crew to clean up the debris before they leave.
Our team of experts knows what they are doing and will do an efficient job. When they finish working, your driveway will be accessible and the danger of tree limbs falling on your roof will be eliminated. The services we provide are first-rate and our prices are reasonable. We also give complete estimates. If you hire us, we guarantee our quality tree care services in Southlake, TX will not be surpassed. We offer the most thorough tree care ever...or it's free. Contact us today to schedule an appointment.