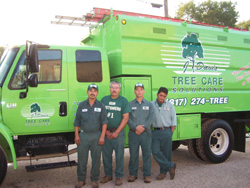 There are several dead trees on your property that should be removed right away. Weak branches have fallen, and many appear that they are about to fall. Luckily, the branches did not do any damage to your house and did not fall on you or a family member. We have been in business for many years and can provide you with quality tree removal services in Southlake, TX that you can trust. Our arborists are well trained and have the skills to do the job properly and to your satisfaction.
Dead trees should be cut down immediately. They are hazardous and can be deadly. We advise that you remove dead trees right away. We know that homeowners love their trees and want to try to hang on to them, but dead trees are no longer safe and can fall over or lose branches at any moment. Plus, dead trees attract pests, which is why we suggest that you contact us for our top quality tree removal services at the first sign that the tree is dying. Damaged and diseased trees may also have to be taken down. Some diseases are treatable while others are not, which is why you should contact us for our expert inspection.
Our team is highly experienced and has the skills to do an efficient job right removing dead, diseased or dying trees from your property. You can rely on our certified and professional crew to use advanced equipment and modern techniques to safely remove the tree or trees. We have years of experience and a solid reputation in the region that you can trust. The top quality tree removal services in Southlake, TX that we provide will not be outdone and are unmatched by our competitors. We offer the most thorough tree care ever...or it's free. Contact us today to setup an appointment.